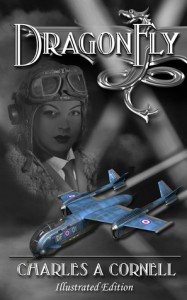 It is an interesting re-imagining of World War II. Especially for people who like strong female characters and a little magic thrown into the mix. It tends towards sci-fiction fantasy and I absolutely loved it. I admit that I don't know much about the World War. But I liked this version of the story.
shows us a world where one woman is hard bend on getting respect and acknowledgement in a men's dominating environment. Then by stroke of luck she gets to pilot Dragonfly, an experimental aircraft. And then she changes the course of history with her sheer determination.
I loved the plot, characters and most important the writing style of this book. I loved how this book has so many different aspects that will touch a readers heart. Once started, it was hard to put down. I can't wait to read more of it, it was thrilling, entertaining and quite literally aw inspiring.
(I got this book free in exchange for an honest review via Ebook Miner group)